ChatGPT is useful for tasks from debugging code to telling jokes. And ChatGPT can also help you make a resume that lands you jobs. We go through the best strategies for writing and editing your resume with ChatGPT.
Our free-to-use resume builder can make you a resume in as little as 5 minutes. Just pick the template you want, and our software will format everything for you.
3 ways to generate a ChatGPT resume
Like seeking professional resume writing services or using an online resume builder, ChatGPT can dramatically simplify the resume writing process. Keep reading to learn how to:
Generate a resume from scratch
Have ChatGPT improve and update an existing resume
Use pre-written ChatGPT prompts to create a resume
1. Use ChatGPT to write your resume from start to finish
Trained on data from 2021 or earlier, ChatGPT can help you build a resume based on what it's learned about professions and their specifics. But ChatGPT doesn't know you personally or what you've accomplished in your specific roles unless you give it the right instructions (also known as prompts).
So here are 3 steps to help you write a convincing resume from scratch:
Introduce yourself
The more detailed you are when introducing your professional history, the less you'll have to edit your resume later.
After you've logged onto ChatGPT, provide it with the following important information:
For instance, this applicant provides ChatGPT with a clear prompt containing their teaching credentials so that the chatbot can write a more detailed first draft of their resume: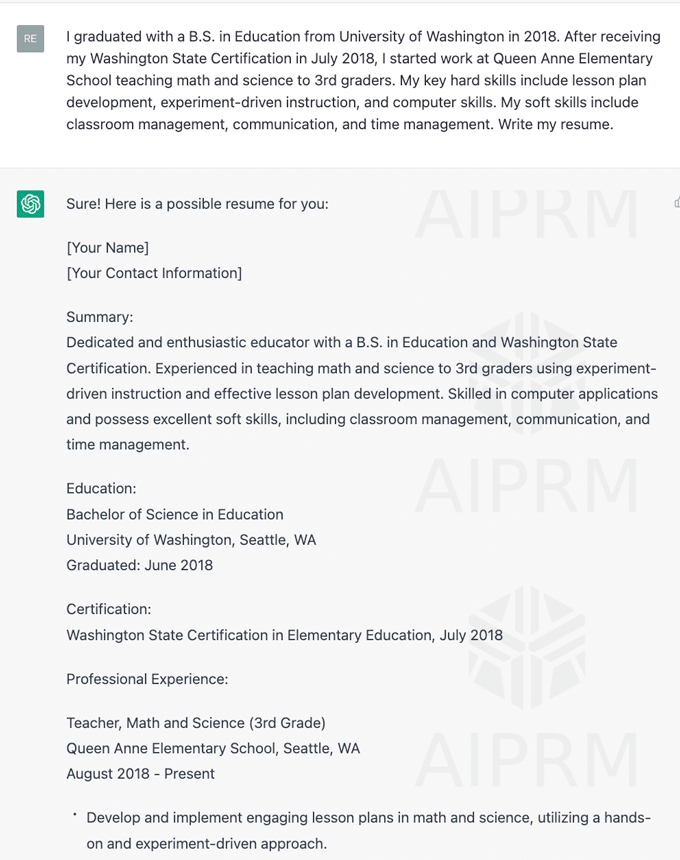 While asking ChatGPT to "write me a sample teacher resume" will generate more text than "write me a teacher resume" (which generates more of a resume template with fields you have to manually fill in), both prompts will create generic resumes that lack your details.
That's why taking the time to write a detailed prompt like the example above ensures ChatGPT writes a customized first draft that you can quickly edit rather than entirely rewrite.
Give ChatGPT more information about your work experience
With ChatGPT's assistance, you can expect to receive a moderately well-written first draft of your resume. However, you might find that many of the job description entries aren't usable (either because they're too general or completely false). As a result, you'll need to give ChatGPT more details about your work experience when requesting rewrites.
To help you avoid manually typing out your work achievements, copy-paste these documents (if you have them) into ChatGPT to help the chatbot write more specific resume bullets:
your work journal
performance reviews
the job description for your current position or previous role
Provide ChatGPT with the job description of your target role
The best resume that'll attract a potential employer should highlight how your skills and work experience uniquely fit the company's job description. So also provide the job description of your target position by copy-pasting it into ChatGPT.
While your resume should be customized to the job description, hiring managers consider it a red flag if your resume directly copies from the job posting — which is often what ChatGPT does.
To work around this issue, first ask ChatGPT to analyze the job description.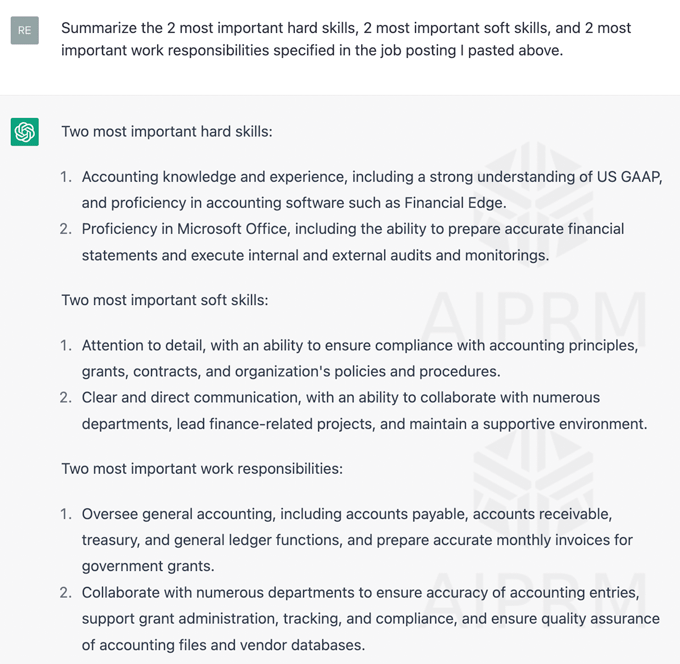 Then, ask ChatGPT to write your resume using the summary of the job description (and your personal information).
2. Give ChatGPT an existing resume to customize for a job description
If you're not a first-time job seeker, you can provide ChatGPT with a recent resume to save you even more time.
An existing resume could include an old resume you wrote yourself or one that you made from a resume builder. Remember to tell ChatGPT about any new work experiences you've gained since you created that resume.
With an existing resume, you can ask ChatGPT to:
edit the writing to make it more clear and engaging
customize your resume for a different job title (such as for a career change)
tailor your resume to a different job opening (by providing a different job description)
identify common resume mistakes and weaknesses
determine if a certain work experience should be included on your resume
For example, see how the prompt below asks ChatGPT to provide rewrites of specific resume bullets: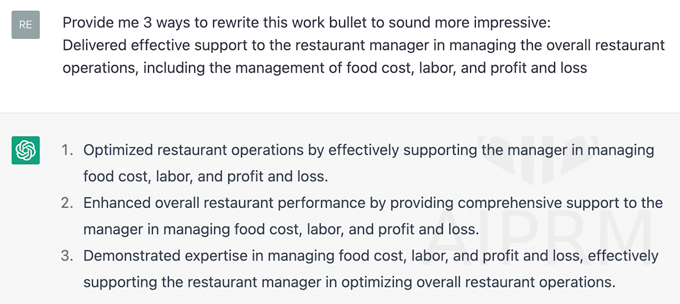 The chatbot can also provide you suggestions so you can edit your resume yourself: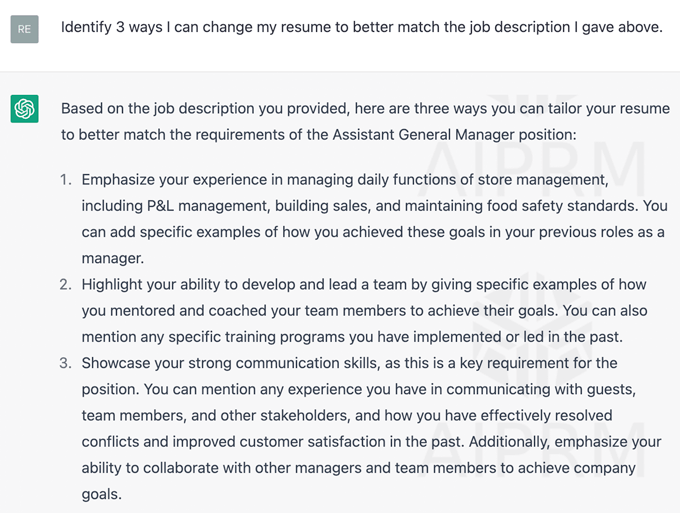 3. Use an AIPRM template
Another easy way to make a resume with ChatGPT is to use publicly available prompts uploaded to Artificial Intelligence Prompts and Responses Manager (AIPRM), a ChatGPT extension.
Good AIPRM prompts instruct ChatGPT to follow best principles of resume writing so you don't have to coach ChatGPT, reducing the amount of back-and-forth communication with the chatbot.
To get started, first download the AIPRM plug-in for your browser.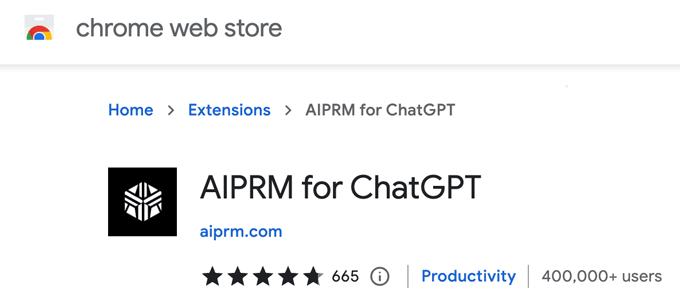 Search for prompts related to "resume." Note that not all the results will be related to resumes the job document. So read through the titles and descriptions, and sort by top votes or top views to get a sense of the most applicable, well-liked, and useful prompts.

Some prompts will ask you to submit an existing resume while others will ask you to answer questions. As prompts generate resumes in seconds, try a few to see which one gives you the best resume. You can even use prompts with different functions one after the other. For example, you can use a prompt to write your resume first, and then use another prompt to get feedback on your resume.
4 steps to edit your ChatGPT resume
Don't forget to edit your ChatGPT resume before submitting it to jobs. Employers have reported disqualifying applicants who obviously copy-pasted from ChatGPT, so ensure you review and modify the information before sending companies your resume. Even if employers aren't able to tell you used ChatGPT, editing your resume can increase your chances of getting the job by showing employers you're genuinely interested in the role.
Follow these 4 steps to edit your ChatGPT resume:
1. Edit anything ChatGPT made up about you
When filling out the standard parts of your resume, ChatGPT will make up any details about you that you haven't provided. Even if it's by accident, you want to avoid lying on your resume.
So be sure to carefully check what ChatGPT has produced. ChatGPT content can range from complete lies — such as saying you have a skill you don't have — to stretching the truth, like saying you're expert in a skill you only know at a basic level.
To reduce the amount of writing ChatGPT 'hallucinates' about you, you can command ChatGPT to only work off the information you've provided. Here's an example of a prompt used to guide ChatGPT:
Use only the information I've provided. For any information you don't know, write [insert here] instead.
When you chat with ChatGPT, it remembers all previous instructions and information you've given. So if you've previously told ChatGPT to only use the information provided but now need it to generate more text, you have two options. You can either start a new chat or tell ChatGPT it can "write using hypothetical information" going forward.
2. Add more relevant and detailed information
Out of all your resume sections, your work experience section will likely require the most editing. You'll need to choose which of ChatGPT's resume bullets you want to keep and, of those, which ones you want to edit.
When choosing the work bullets to include on your resume, make sure that each does one of the following:
describes one of your main tasks (demonstrates to hiring managers what most of your expertise is in)
details an achievement (impresses hiring managers by showing them that you get results)
responds to a requirement in the job description (shows hiring managers you have some experience in the area they need, even if it's not your main expertise)
When you're satisfied with the content of your work bullets, add in hard numbers to make your work history and accomplishments more concrete.
Also, adding in descriptive resume adjectives and adverbs can help showcase your personality and assure hiring managers that your resume wasn't written by a robot.
See how adding descriptive words and numbers can make your resume more engaging and show what kind of worker you are:
Provide exceptional customer service, taking orders and answering questions about menu items
Human edit of ChatGPT resume bullet
Efficiently and respectfully take orders and answer questions about menu items, leading to 45 5-star reviews for my customer service via comment cards
3. Format your resume for your industry and career stage
While it depends on the prompt you give ChatGPT, the chatbot will usually format your resume in the following order:
experience
education
Keep in mind that the resume format and content generated by ChatGPT might not be appropriate for your industry or career level. So review and adjust your resume as needed to make sure it meets your target employer's expectations.
For example, if you work in a technical industry, you don't need ChatGPT's long statements describing your hard skills, like programming languages. Or if you're changing careers, you can emphasize your transferable skills by placing these abilities and certifications higher on your resume.
Also, if you provide ChatGPT with minimal instructions, it'll generate both a resume objective and resume summary for you. So ensure you review both introductions and choose the one that best fits your career stage and goals.
Finally, ChatGPT uses "I" when writing your resume. For a standard, professional resume, edit out first-person pronouns or ask ChatGPT to rewrite your resume without pronouns.
4. Remove the References available upon request
ChatGPT typically includes the phrase "References available upon request" at the end of your resume. However, this phrase is considered unnecessary and takes up valuable space that could be used to highlight your skills and experiences.
To make the most of your resume, we recommend removing any mention of references and using the extra space to provide more relevant information about yourself.
Frequently asked questions
Want more information related to writing your resume with ChatGPT? We provide answers to some common questions about chatbot-written resumes.
1. Can you use ChatGPT to write a resume?
Yes, you can use ChatGPT to write a resume. ChatGPT is good at following the standard resume format and generating resumes based on training data of different professions. You can use ChatGPT as a tool in creating your resumes, like how you might use tools like Grammarly or resume writing services.
2. Should you use ChatGPT to write your resume?
You should use ChatGPT to write the first draft of your resume. ChatGPT is great for:
saving you time in filling out the required sections of your resume
responding well to a job description
helping you with writing
But because ChatGPT resumes have several problems, including making up information and sounding overly formal, you should carefully edit your ChatGPT resume before submitting it.
3. Does ChatGPT save you time when writing a resume?
Yes, ChatGPT saves you time when writing your resume. The chatbot reduces the time you spend writing your resume because:
you can type conversationally with the chatbot (and speaking is generally easier than writing)
it'll fill in your probable work tasks from what it knows about your job title
it can write full sentences from ideas or short phrases you provide it
it can provide rewrites instantaneously (compared to the time it would take to receive edits from others or correct your resume yourself)
4. Is it free to write my resume with ChatGPT?
Yes, it's free to write a resume with ChatGPT. OpenAI does offer ChatGPT Plus, a premium version that costs $20 a month plus tax. The main benefit of ChatGPT Plus is that you'll get access to the chatbot even at high capacity times when other users might be locked out.
About Resume Genius
Since 2009, Resume Genius has merged innovative technology with up-to-date industry expertise to simplify job hunting for people of all backgrounds and experience levels.
Resume Genius's easy-to-use resume builder paired with a wide range of free career resources like resume templates, cover letter samples, and resume writing guides can help anyone improve their job hunt. Resume Genius has been featured in esteemed publications such as CNBC, Business Insider, Forbes, and The New York Times.
Supported by a team of dedicated career advisors and HR experts, Resume Genius's ultimate mission is to guide job seekers toward fulfilling work and help them reach their career goals.
For media queries or concerns, please contact us.