Volunteers' Week is a yearly celebration that commemorates the unselfish contribution brought about by the millions of volunteers across the globe. It also highlights charities, social organizations, and other voluntary groups that have actively participated in volunteering and charitable activities.
[bb_toc content="][/bb_toc]
Volunteers' Week Definition and Meaning
Volunteers' Week is an annual event that is particularly celebrated in Australia, Canada, the United Kingdom, the United States, and New Zealand as a way to promote and show appreciation for volunteerism. 
Volunteers' Week is a weeklong celebration that highlights different kinds of volunteer programs and services that can encourage others to try volunteering.
When Is Volunteers' Week?
Since various nations across the world celebrate Volunteers's Week, it takes place on different dates, for example in the US and Canada it is often celebrated during mid to late April. As for the United Kingdom, it occurs during the first week of June. While for Australia and New Zealand, celebrating Volunteers' Week happens in the month of May. 
Volunteers' Week History
The history of Volunteers' Week differs in each country such as in Canada it was first conceived during World War II in 1943 to honor the contribution made by women on the home front. The US established its own Volunteers' Week event in 1974 through a Presidential Proclamation signed by President Nixon. The UK on the other hand organized the said event in 1984 which is currently handled by the National Council for Voluntary Organizations.
Volunteers' Week Purpose, Importance
The act of volunteering is when one gives their time, effort, and talent to others without any payment. It is an unselfish act that is to be honored and appreciated every Volunteers' Week in hopes that others may too be inspired to do the same. 
Recognition
One of the main purposes of celebrating Volunteers' Week is to recognize the effort and the impact that volunteerism has brought to the community. Such recognition is a way to thank volunteers for helping others without financial gain. In that way, this will also encourage other individuals to offer some of their time and talent to assist others.
Effect of Volunteering
Volunteers' Week is also the right time to help others understand the importance and effect of volunteering. Volunteering is one selfless act of helping others, however, for oneself, it may boost their physical and mental health. Not only that it can also increase one's career aspect since employers and businesses may see volunteering as an act of kindness and selflessness. 
Equality and Solidarity
Another importance of celebrating Volunteers' Week is that it reflects equality and solidarity amongst communities. These two values must be recognized and promoted to improve the plight of others so that everyone will be able to come together to find better solutions. Through Volunteers' Week, every volunteer and organization across the world is encouraged to work as one so others may do the same. 
What's In Volunteers' Week?
A lot of fun-filled community events are organized during Volunteers' Week such as conducting awards ceremonies and parties to honor volunteers and organizations. Also, expect a lot of volunteering-related activities such as fairs, special meetings, and local programs to help raise awareness and this will also serve as a recruitment for others for those who want to join volunteering activities. Training is also held during Volunteers' Week to give others a chance to learn more about this special activity.

How to Create a Volunteers' Week in Social Media
It is critical to let others know the value of volunteerism and what better way to do this is by spreading the news through social media during Volunteers' Week. It is also a great way to pay tribute to millions of volunteers who devoted their effort, time, and talent without any financial gain.
Facebook
1. Select a Volunteers' Week Facebook Post template.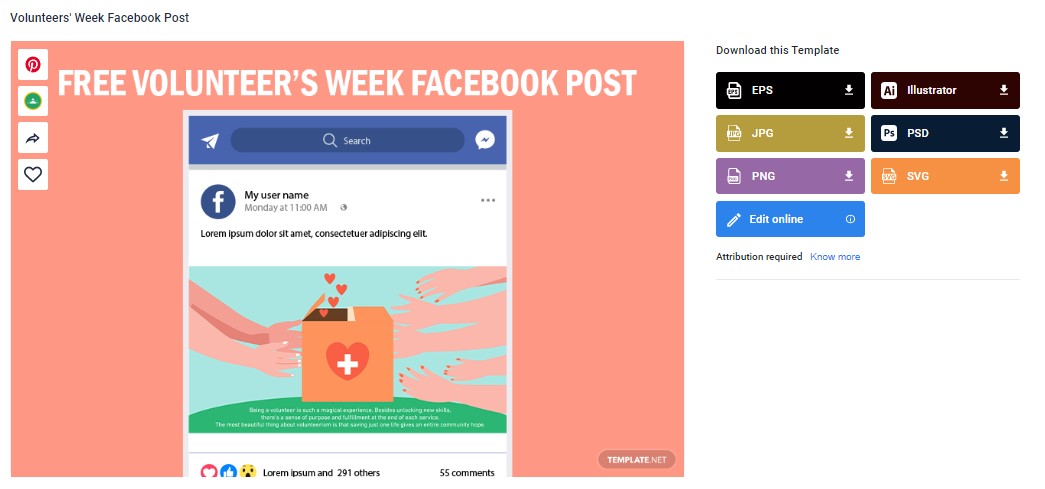 One of the most prominent and widely used social media platforms is Facebook. So it is a great platform to help you boost events or share heartfelt stories and messages during Volunteers' Week. To get started, make use of this template and click on the 'Edit Online' button.
2. Edit or change the images. 
The template comes with its own images that you can opt to use or change. If you want to delete the image, just select the image you want to edit and click on the trash bin icon located on the toolbar. But if you want to add other images instead such as vectors, illustrations, and clipart then go to the 'Graphics' section located on the blue side panel, and from there you will find a large selection of images and designs to choose from.
3. Add an organization logo image.
Facebook is also an ideal place to invite or recruit new volunteers during Volunteers' Week. However, to make it more official it's best to add an organization or company logo to the post you are currently preparing. To upload your own logo image, click on the 'Logo' button on the blue side panel.
4. List down a schedule of activities or tasks.
For those who need to launch an event during Volunteers' Week, the editor tool has a feature to add a table where there are different kinds of layouts available. Go to the 'Tables' section located on the blue side panel and select a layout. The layout enables you to create a list of schedules or tasks or add a calendar.
5. Download the template after editing.
After editing you can now download the template on your computer. On the upper right section of the screen, you will find the 'Download' button. Then on the drop-down menu select a file format for the template you are about to download.
Instagram
1. Pick out a National Volunteers' Week Instagram Post template.
Another way to take Volunteers' Week on social media is through Instagram, a platform that has millions of users worldwide. This template will help you create an Instagram-worthy post whether for personal or business use. To get started just click on the 'Edit online' button located on the right side of the template.
2. Change the written text. 
The template comes with a pre-written message or text that you may want to keep or change. To edit this text, click on the 'Fill' button on the blue side panel. You can simply override the text on the text box or change its font style and size by using the formatting tools on the toolbar which is right above the template.
3. Add a quote or a poem to honor volunteers. 
Prepare a heartwarming poem or add a meaningful quote to honor the volunteers for their hard work and dedication. So to add more text to the template, click on the 'Text' tab and select 'Paragraph'. On the toolbar, you can also change the font style and size to make the text more readable to others.
4. Change the template's background color.
If you wish to have a darker or lighter background for the template you are updating, then click on the 'Background' button. Select 'Colors' where you will find a wide variety of background color designs to choose from. You can also create your own color scheme by selecting 'New Color'.
5. Save the template.
To save the template directly, click on the three-dotted button on the upper right side corner of the screen. The drop-down menu will reveal the save button. Or you can also opt to print the template instead.
WhatsApp
1. Choose a Volunteers' Week WhatsApp Status template. 
Update your WhatsApp post on Volunteers' Week by using the template above. What's great about it is that the template is editable meaning you can add your own designs and text. To proceed, just click on the 'Edit online' button.
2. Add videos or audio.
Get creative with the template's design by adding audio or videos to make it more pleasing to look at. Click on the 'Graphics' button, scroll down, and then select a design from the options given. You can also use the search text box to locate a specific design by simply typing the keywords.
3. Add more text.
Perhaps you want to use WhatsApp to update everyone on an upcoming awards ceremony for volunteers in your community. And what better approach to soliciting public nominations than through social media? So to add this announcement to your WhatsApp status, simply go to the 'Text' tab and add a 'Paragraph' to add or write down more text to the template.
4. Upload a personal image or video.
The editor tool also enables you to upload your own image or video into the template in case you want to display your personal photos or videos on your post. Just click on the 'Uploads' button on the blue side panel to upload the file from your computer. However, do take note that the file should not exceed 5 MB.
5. Save the changes.
Once you have finished editing the template, do not forget to save the changes. Simply click on the three-dotted button on the upper right-hand corner of the screen to reveal the 'Save' button. Now you can upload this edited template on Volunteers' Week.
Volunteers' Week  vs National Volunteer Month
Volunteer's Week is a week-long celebration that commemorates and commends the selfless services provided by millions of volunteers across the world.
National Volunteer Month is a month-long celebration in the United States and in the Philippines in recognition of volunteers around the globe which takes place annually every April and December respectively.
Volunteers' Week Ideas & Examples
There are numerous ways to show your appreciation and thanks to the volunteers who spent hours helping others, especially through social media blasts. That said, here are several Volunteers' Week ideas and examples that will inspire you to get creative with your post or any advertising paraphernalia.
Volunteers' Week Invitation Ideas and Examples
Use this Volunteers' Week invitation to invite and encourage others to join an upcoming party or meeting organized for volunteers in the community.
Volunteers' Week Background Ideas and Examples
This Volunteers' Week background idea works well to design a greeting card or a blog post.
Volunteers' Week Greeting Card Ideas and Examples
Send this well-crafted Volunteers' Week greeting card to those volunteering in hospitals, public schools, and community shelters as a way to say thank you for their time and hard work.
Volunteers' Week Banner Ideas and Examples
Upload this Volunteers' Week banner on social media or various websites to advertise any upcoming activities during Volunteers' Week.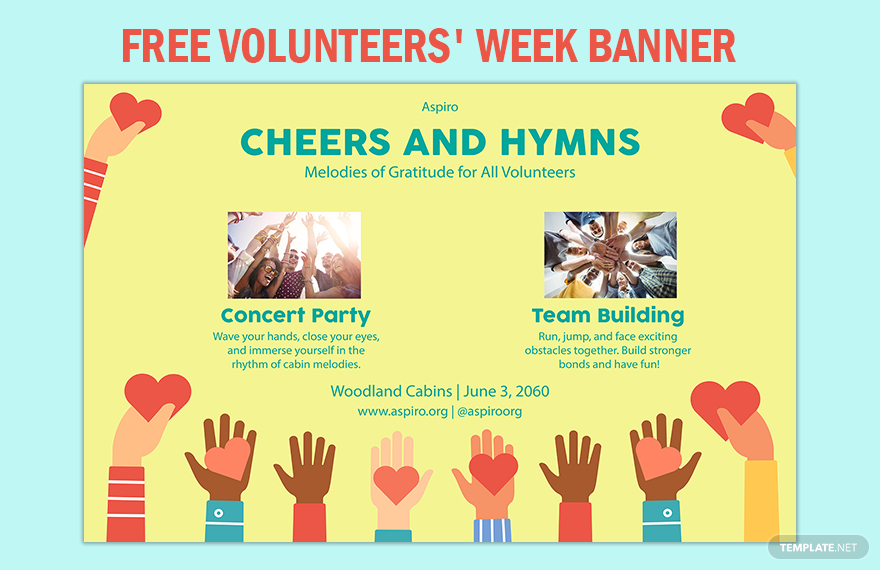 Volunteers' Week Poster Ideas and Examples
Display this Volunteers' Week poster in schools, shops, healthcare facilities, and other public places to let everyone know the importance of volunteerism or as a means to advertise an event.
Volunteers' Week Flyer Ideas and Examples
Distribute this Volunteers' Week flyer via email or print out copies to spread the word about various activities and important events on Volunteers' Week.
Volunteers' Week Promotion Ideas and Examples
A Volunteers' Week promotion idea will help anyone advertise and communicate upcoming plans such as charitable events and fundraising activities for Volunteers' Week.
Volunteers' Week Wishes Ideas and Examples
One of the best gifts you can provide volunteers is by expressing a heartfelt message through this Volunteers' Week wishes example.
Volunteers' Week Message Ideas and Examples
Parents can urge their children to greet local and community volunteers with this well-designed Volunteers' Week message idea.
Volunteers' Week Twitch Banner Ideas and Examples
Update your Twitch profile and show your support with this Volunteers' Week Twitch banner idea.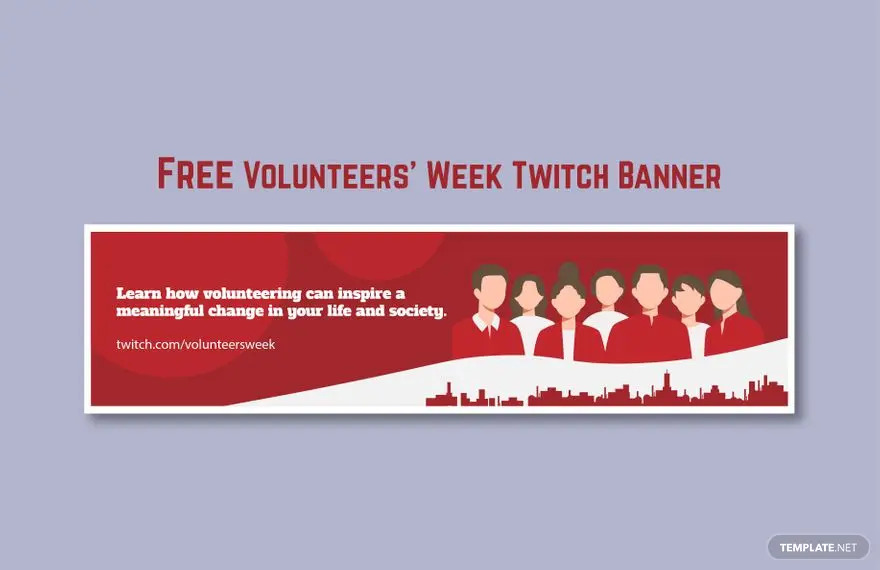 Volunteers' Week FAQs
Why do we celebrate Volunteers' Week?
We celebrate Volunteers' Week to honor different volunteers in communities and charitable institutions for their work, service, and dedication to their cause.
What is the theme for Volunteer Week?
The theme of Volunteers' Week changes every year and it depends on the country.
Why is volunteer appreciation important?
Volunteer appreciation is important because helps others recognize the value of helping others without financial gain and with this, it also helps increase one's morale.
How do you celebrate Volunteers' Week?
During Volunteers' Week, you would expect different kinds of events like training programs, award ceremonies, parties, and recruitment agendas.
When did Volunteer Week start?
Volunteer Week started depending on the country, for example in the United States in 1974 while in Canada it started as early as World War II.
What should I do for volunteer week?
You can express your appreciation by posting words of thanks on social media to the volunteers or offer to volunteer yourself in any charitable events or institutions in your community.
What do you say to a volunteer in appreciation?
Words of thanks and encouragement can go a long way for volunteers.
What activities does a volunteer do?
Volunteers offer their talent, expertise, and time in helping various charitable institutions, events, schools, hospitals, community projects and etc.
Who created Volunteers' Week?
In the United States, it was President Richard Nixon who established Volunteers' Week.
What is the significance of Volunteers' Week?
The significance of  Volunteers' Week in general is that it raises awareness and volunteers are properly recognized for their service to their community.