Saint Joseph's Day celebrates Jesus's father figure or the Virgin Mary's loving husband—the one and only St. Joseph. Also dubbed as the Solemnity or Feast of Saint Joseph, this religious holiday is a yearly celebration anticipated mostly among Roman Catholics or the Catholic Church.
[bb_toc content="][/bb_toc]
Saint Joseph's Day Definition and Meaning
Saint Joseph's Day is a Catholic feast day dedicated to St. Joseph, considering he is one of the most notable biblical figures yet the only saint who acted as the legal dad of Jesus.
St. Joseph's Day is the right time to honor the Blessed Virgin Mary's husband and acknowledge his faith as Jesus's foster father.
When Is Saint Joseph's Day?
Saint Joseph's Day is observed on March 19 every year and it happens on a Sunday in 2023. This event falls during the season of Lent, making it a memorable holiday among Catholics alike to commemorate the early father of Jesus.
Saint Joseph's Day History
Since the 10th century, Westerners began celebrating March 19 as the official Solemnity of St. Joseph. The Church in the early 1500s was also the primary lead to observe Saint Joseph's Day officially until the tradition spread out to the rest of the world. More so, the Lutheran Church and the Anglican Communion provinces participated in this holy day to remember Joseph as a father and a saint.
Saint Joseph's Day Purpose, Importance
Indeed, St. Joseph's Day remembers Joseph, the legal father of Jesus, but there is actually more to the holiday besides commemorating his name. This specific holiday is celebrated in many countries because of these significant reasons:
Father Figure of Humility
Saint Joseph is well-known for his potent humility for two main reasons. First, he accepted God's authority to look after the Blessed Virgin Mary and Jesus Christ, the son of God. And second, he was willing enough to even treat Jesus as a legitimate son despite undergoing a few obstacles in the acceptance of the blessing.
Joseph as a Heavenly Advocate
Universally, Roman Catholics accepted Joseph as a patron saint in many facets. Saint Joseph is said to be the patron of fathers, expectant mothers, families, engineering, immigration, traveling, and even happy death. That being said, St. Joseph is a popular patron among a plethora of countries such as the Philippines, Vietnam, Korea, Mexico, Austria, Peru, Belgium, Croatia, and the US.
One of the Holy Family Feast Days
This principal holiday dedicated to Saint Joseph comes in full circle with the rest of the holy family feast days. The celebrations include the Feast Day of the Virgin Mary (September 8), the Birth of Jesus Christ on Christmas Day (December 25), and the Feast Day of the Holy Family (the first Sunday after Christmas). That being said, this holiday's foundation is just as important as the rest of the holy family feast days.
A Reminder of the Lenten Season
St. Joseph's Day commemorates the Lenten season, meaning it holds great significance to Catholics, particularly in observing fasting and similar traditions. From Advent, Christmas, Ordinary Time (after Epiphany), Lent, Easter, and Ordinary Time (after Pentecost), it is no surprise why the feast day is also paramount in the religious calendar. Hence, Catholics remember during Lent that March 19 is officially St. Joseph's feast day.
What's on Saint Joseph's Day?
St. Joseph's Day falls during the Lent season which leads to the assumption that fasting and other Lenten customs are observed during this feast day. Going meatless, attending mass, and sending prayers to St. Joseph are some of the traditional practices expected on this day. Some traditions you might want to participate in include eating bread crumbs (since the dish symbolizes sawdust and St. Joseph was a carpenter), attending a St. Joseph's Day parade with the patron saint's statue, or participating in church services.
How to Create a Saint Joseph's Day Social Media Post
Saint Joseph's Day is a well-known, religious and cultural event among Catholics celebrating St. Joseph's life. For the modern-day holiday celebration, social media is a great place to start making Saint Joseph's Day greetings and posts, such as:
Facebook
1. Choose a Saint Joseph's Day FB post template.
Access Template.net and view the entire collection of Saint Joseph's Day templates. Choose your preferred file format such as EPS, JPG, PNG, and more. Then, click "Edit This Template FREE" to personalize the template.
2. Fill in the significant texts.
You are automatically introduced to the template's Editor tool. Start clicking "Fill" so you can fill the text to the template. On the text boxes provided, write down your holiday greeting, religious quote, Saint Joseph's Day message, or even a prayer to St. Joseph.
3. Add beautiful graphics.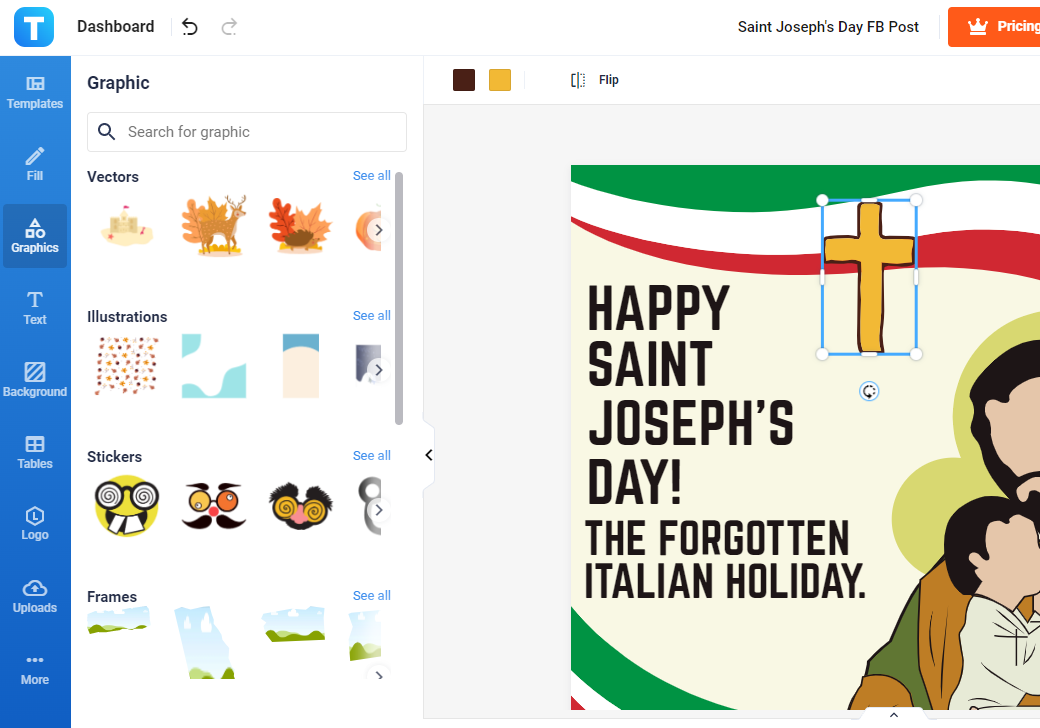 Don't forget to click "Graphics" on the left menu. Choose any type of graphic design you can add to the template. You might like to insert an altar table sticker, colorful prayer card, creative greeting card, and Saint Joseph images.
4. Set a creative-looking background.
Select "Background" from the side menu. Then, pick any custom background you want to incorporate into the Saint Joseph's Day Facebook post template. You may also select a background color only from the color palette on the bottommost category of the background tool.
5. Download the template once you're done.
Are finished editing the FB post template? Download your work by tapping the "Download" button on the top right. Choose a high-quality image for the format so it looks crystal clear once you post it on Facebook soon and select the last "Download" button.
Instagram
1. Select a Saint Joseph's Day Instagram post template.
Greet your friends, family, school, agency, or any audience, and be the messenger of St. Joseph's feast day on Instagram. Click your preferred St. Joseph's Day IG post template and choose a file format. Finally, press "Edit This Template FREE."
2. Input the text data.
Inside the Editor tool, tap "Fill" from the left sidebar and check out the fillable text boxes. Click on any box and you can change the default text of the template by typing shortly. Take that opportunity to write your holiday wishes to university students, job workers, book club members, or any other target audience.
3. Be sure to incorporate graphic designs.
Select "Graphics" from the menu to insert graphic images into the template. Rather than taking too long to craft your own graphic design, you can simply pick any graphic from the options available. You may add a St. Joseph poster, dove painting, altar drawing, or holy clipart.
4. Add colorful wallpaper.
The "Background" tool from the side menu provides you with a bunch of free wallpapers for your Instagram template. Select a background color or an image you can use to set as the template's background. Make sure you choose a background that still makes your text and graphics pop.
5. Save or download your work.
Select "Download" and set your final format targets for the template. Then, press "Download" and you should be able to own the template shortly. Don't forget to post it on Instagram to greet a happy Saint Joseph's Day to your followers.
WhatsApp
1. Pick a Saint Joseph's Day WhatsApp post template.
You might like to spread your holiday greeting on WhatsApp. And that is certainly possible using the St. Joseph's Day WhatsApp post template. Click on that specific template and tap "Edit This Template FREE" to move to the Editor tool pronto.
2. Write the message or greeting.
Using the Editor tool's "Fill" button, you can write any message into the template. Messages could be about fasting recipes, religious news updates, holiday greetings, St. Joseph online art link pages, and more. Don't forget to adjust the placements and sizes of such texts by manipulating the texts in the template found on the right side of your screen.
3. Add relevant graphic designs.
Pick from various art graphic designs from the "Graphics" tool. You'll have a bunch of graphic resources you can use such as frames, stickers, illustrations, and more. Make sure any graphic you add elevates the aesthetic of the Saint Joseph's Day WhatsApp post template so it will actually pay off.
4. Incorporate logos, backgrounds, and other uploads.
Give a test at using the rest of the Editor tool's features such as the background, logo, and uploads. From there, you can set a scenic view of the post with a striking background and other visual elements. Make the most out of such features so everything looks appealing in the end.
5. Download everything you worked for.
Last but not least, click "Download" from the right. You can alter the size, quality, and format of your template before you click the final "Download" button at the bottom. Then, head to your WhatsApp account and post the template there shortly.
Saint Joseph's Day vs. Saint Nicholas Day
Saint Joseph's Day is a holiday celebration dedicated to the patron Saint Joseph, his humility, and his support as Jesus's legal father, and it happens every March 19.
Saint Nicholas Day refers to the feast day, generosity, and death of St. Nicholas, and this holiday happens every December 6.
Saint Joseph's Day Ideas & Examples
Besides social media post templates, there are numerous graphic designs you can utilize to commemorate Saint Joseph's Day. Some of the best printable, downloadable, and editable templates you can optimize are:
Saint Joseph's Day Website Banner Ideas and Examples
Set an artistic website banner to announce and greet a pleasant holiday to your site visitors using a premade Saint Joseph's Day website banner to rise to the occasion.
Saint Joseph's Day Wishes Vector Ideas and Examples
Optimize a Saint Joseph's Day wishes vector as your go-to vector image for online posts that could use some good wishes celebrating Saint Joseph's Day.
Saint Joseph's Day Photo Background Ideas and Examples
Besides a frame, you can design the background of a photo specifically with St. Joseph's Day motifs using the Saint Joseph's Day photo background template.
Saint Joseph's Day Greeting Card Vector Ideas and Examples
Make a blessed visual design for greeting cards on the feast day of St. Joseph by customizing Saint Joseph's Day greeting card vector.
Saint Joseph's Day Banner Background Ideas and Examples
Big banners are the perfect design canvas to add numerous graphic elements due to the large-scale format and you could certainly learn a thing or two from the Saint Joseph's Day banner background template's design.
Saint Joseph's Day Image Background Ideas and Examples
Leverage the Saint Joseph's Day image background so that your image already has a backdrop related to St. Joseph and you only need to focus on ensuring your image looks great in the final output.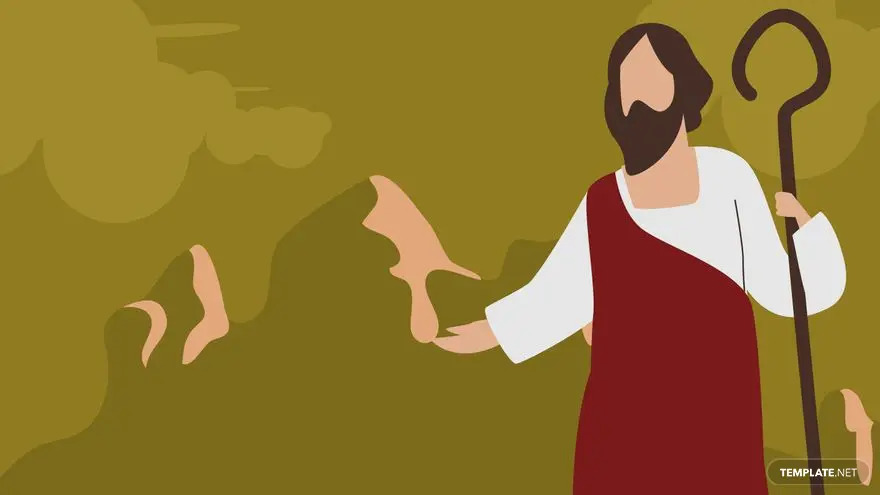 Saint Joseph's Day Vector Background Ideas and Examples
Another background template related to the holiday is the Saint Joseph's Day vector background and it is perfect when you want to achieve a soft, minimal, yet classic holiday design.
Saint Joseph's Day Illustration Ideas and Examples
Cartoon illustrations work best for child-friendly greeting designs and you might want to work on a Saint Joseph's Day illustration as a start.
Saint Joseph's Day Design Background Ideas and Examples
Check out this inspiring Saint Joseph's Day design background template that you can use as wallpaper for numerous platforms and bless your audiences with its creative drawing of St. Joseph.
Saint Joseph's Day Wallpaper Background Ideas and Examples
Also an excellent wallpaper design is the sunset-filled image of St. Joseph with the Divine Child, just like this Saint Joseph's Day wallpaper background template.
FAQs
Why do we celebrate Saint Joseph's Day?
St. Joseph is celebrated during this holiday because he is Jesus's principal father and is an important biblical figure among Catholics.
Do Catholics celebrate St. Joseph's Day?
Yes, especially when it is one of the Catholic holy days to observe every year.
What are the traditions of St. Joseph's Day?
People observe fasting such as eating bread, wearing red apparel, preparing altars for St. Joseph, and attending mass.
How do Italians celebrate St. Joseph's Day?
Italians assemble the Tavola di San Giuseppe (Table of Saint Joseph) which offers pastries, pasta, fish, vegetables, wines, and other meals for fasting during dinner.
Why do we wear red on St Joseph Day?
Red is said to symbolize good luck and it is the official color dedicated to Sicily's patron saint.
What do you say to someone on St. Joseph's Day?
You can simply smile and greet someone with "Happy St. Joseph's Day!" or you can greet with any message that comes from your heart.
What is the gift of Saint Joseph?
Joseph turned to God for the gift of understanding and the fear of God.
What are the symbols for St. Joseph's Day?
These are the carpenter's square and the lily.
Do you fast on St. Joseph's Day?
Yes, fasting is encouraged because it happens on Lent but there are some religious practices that lift fasting on this holiday since it is a celebration after all.
What color is associated with St. Joseph?
These are brown, green, and red.
Why are there two feast days of St. Joseph?
One feast day is dedicated to him being Mary's husband while the other celebrates him as a worker.
What flower represents St. Joseph Day?
It is the lily.
What are facts about St. Joseph Day?
There is actually no record of statements from St. Joseph in the gospel.